I was recently gifted two boxes of books. I never personally knew the owner; he was my father's colleague's stepfather. After passing, he left behind a large personal library. Hearing about my love of literature, my father's colleague gathered a selection of the dusty books from the shelves that she thought I would like and packed them into two cardboard boxes for me.
Coming home after a weekend away visiting my parents, I carried the two boxes, one on top of another, up the stairs to my fourth floor apartment. Huffing, I set them down beside my bookshelves and laughed to myself. Both of the bookshelves were already full, yet here I was with dozens more books in need of a home.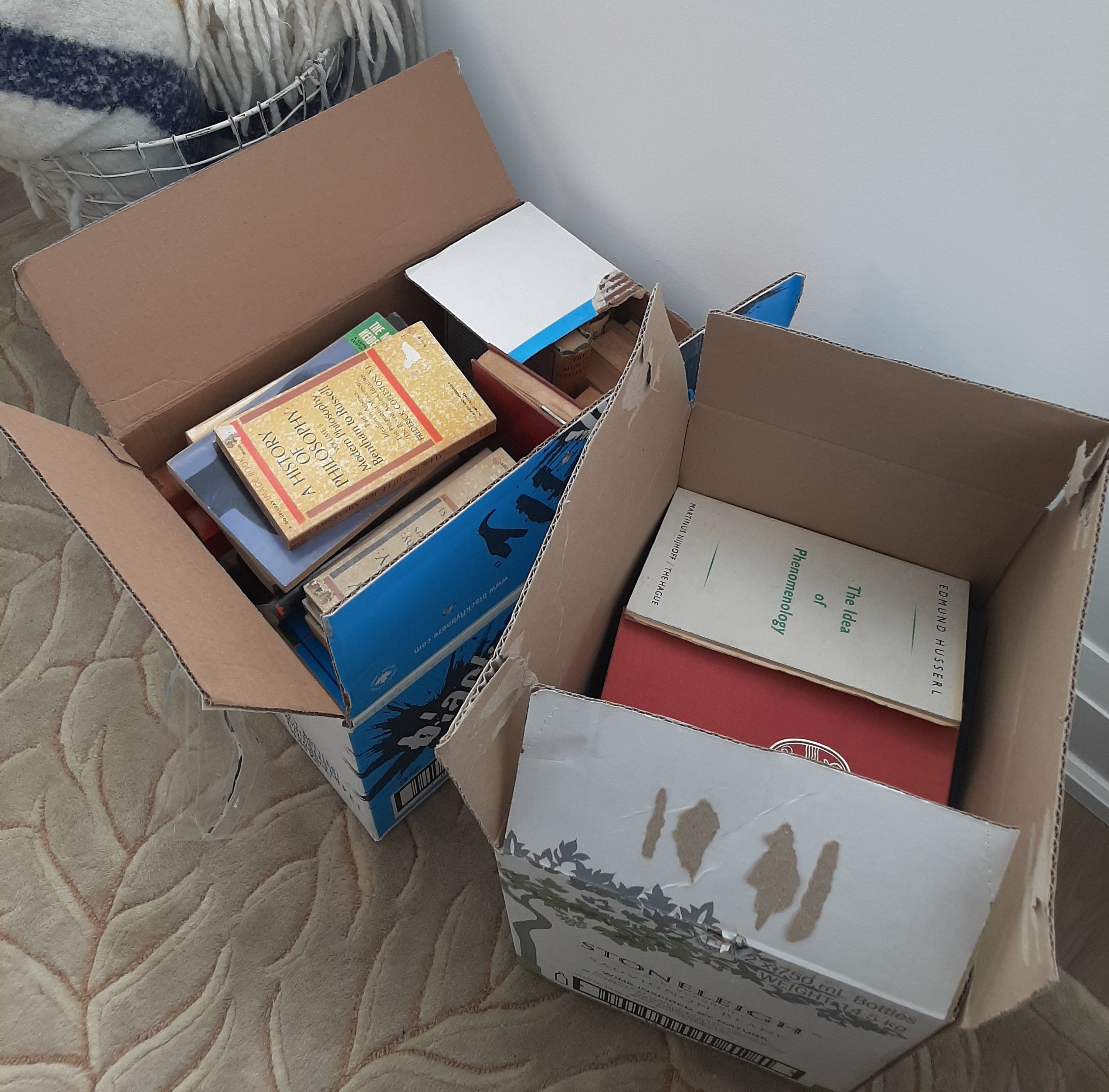 I thought it would be fun to write about the contents of these boxes. You can learn a lot about a person from the books they keep, despite never having known them. Books have a magnetic way of collecting scrap bits of paper between their pages, including business cards, receipts, and library notices, each adding colour and character to one's library. I found some interesting scraps in these boxes. There's a certain bibliophilic pleasure in rummaging through a couple boxes of books and seeing what you find. Anyone who shares this pleasure might enjoy this post.
Opening the boxes for the first time, an old, musty, cigarette-bathed smell came wafting out, like a used bookshop in a basement. Each book had a layer of dust on the top of the pages from years of sitting on a shelf. They would need to be cleaned before I could open them, lest I fling allergen filled dust all over my apartment. So, I set to work with a damp paper towel.
The books are mainly works of philosophy. The previous owner had a strong interest in existentialism and phenomenology, and there's a lot of histories of philosophy, philosophy student's books, and collections of philosophical essays. Others are works of psychoanalysis, many focused on gender differences. There's a few books of eastern philosophy and miscellaneous western classics. In the following sections, I'll highlight a few of the books that stood out to me.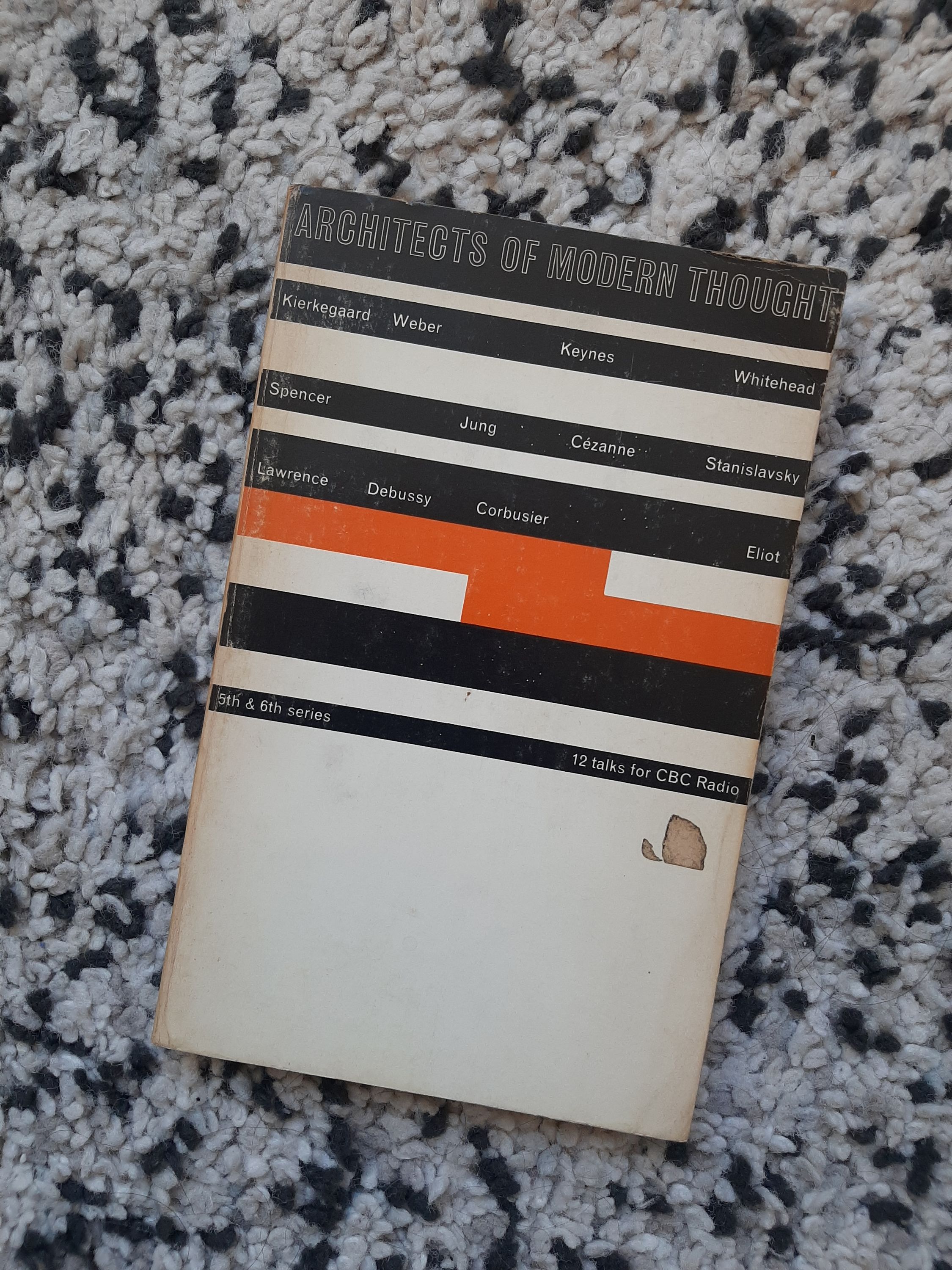 Architects of Modern Thought: 12 Talks for

CBC

Radio
This is a cool one. As the title suggests, this is a collection of shorts discussions of philosophy, art, and literature that aired on CBC radio on October 18th, 1961, and March 7th, 1962. The contributors were mostly Canadian professors speaking on the works of Kierkegaard, Claude Debussy, and Alfred North Whitehead, and more.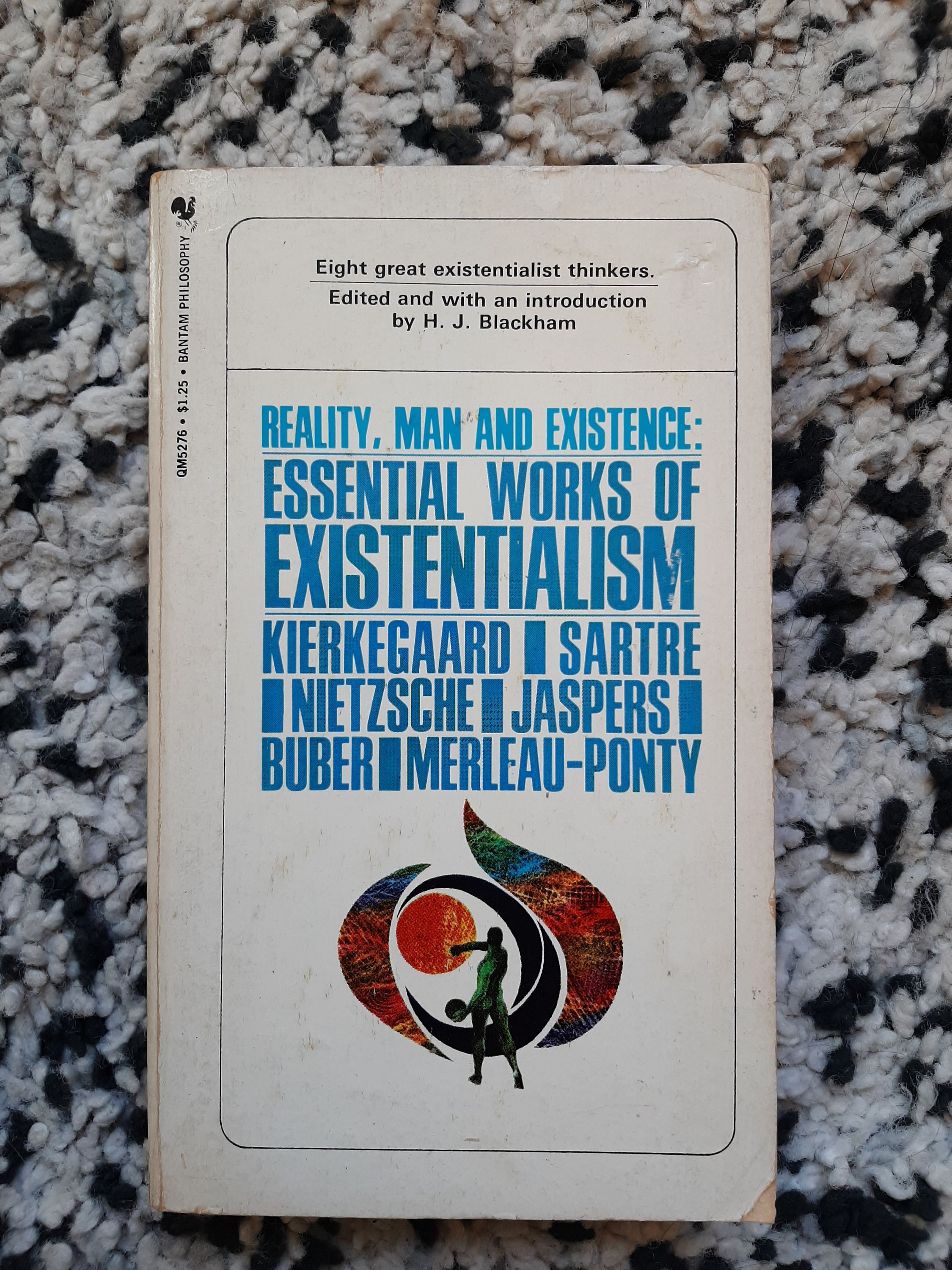 Reality, Man, and Existence: Essential Works of Existentialism
This 1971 anthology published by Bantam Books summarizes the history of existentialist thought beginning with Kierkegaard and Nietzsche and ending with Sartre and Merleau-Ponty. In it I found a receipt from the Trent University bookstore dated November 1972. It cost $1.25 Canadian.
In Search of Ourselves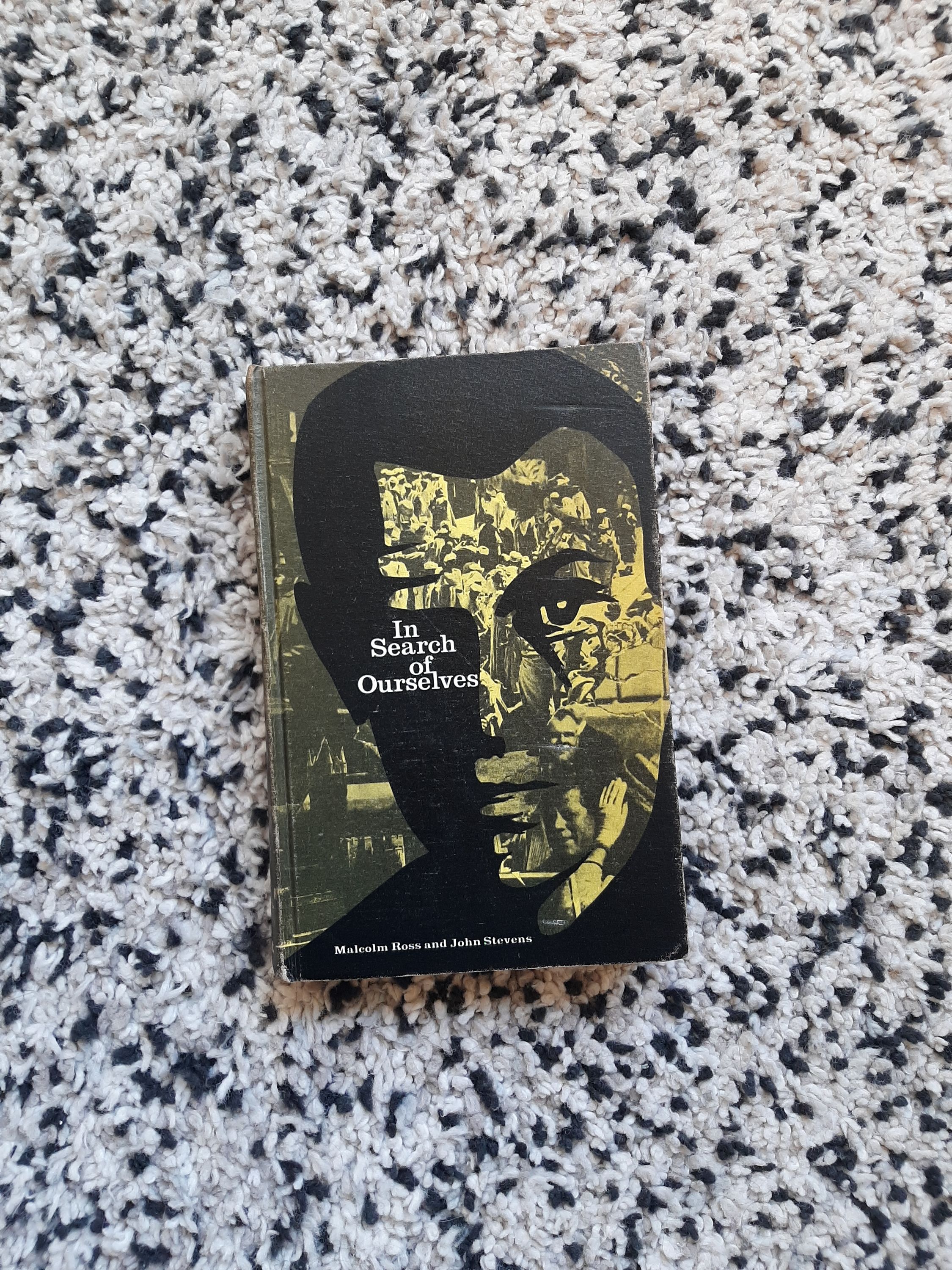 In Search of Ourselves is a selection of essays and short stories selected and edited by Malcolm Ross, a respected Canadian literary critic, and John Stevens. Both men were professors at the University of Toronto at the time of publication. The books was published by J. M. Dent & Sons in 1967, and includes pieces from E.M. Forster, Orwell, Hemingway, Frank O'Connor, D.H. Lawrence, and more. In the introduction, the authors suggest that the pieces were selected to aid humanity in our search for ourselves in an age "both shattered and shaped by political, scientific, and philosophical revolution".
Helpfully, the editors pose a handful of questions at the end of each essay or story to challenge us to think more deeply about the piece. I'm looking forward to working my way through these questions myself; this might be my favourite book in the boxes.
Shakespeare's Tragedies: Everyman's Library No. 155
I love Everyman's Library. Their hardcover editions feel great in the hand and look wonderful on the shelf. I was pleased to find, then, a nearly 100 year old Everyman's in one of the boxes. The spine is in rough shape, but it's perfectly readable and has gorgeous endpapers. I mean, just look at them. I'm glad to add this to my collection.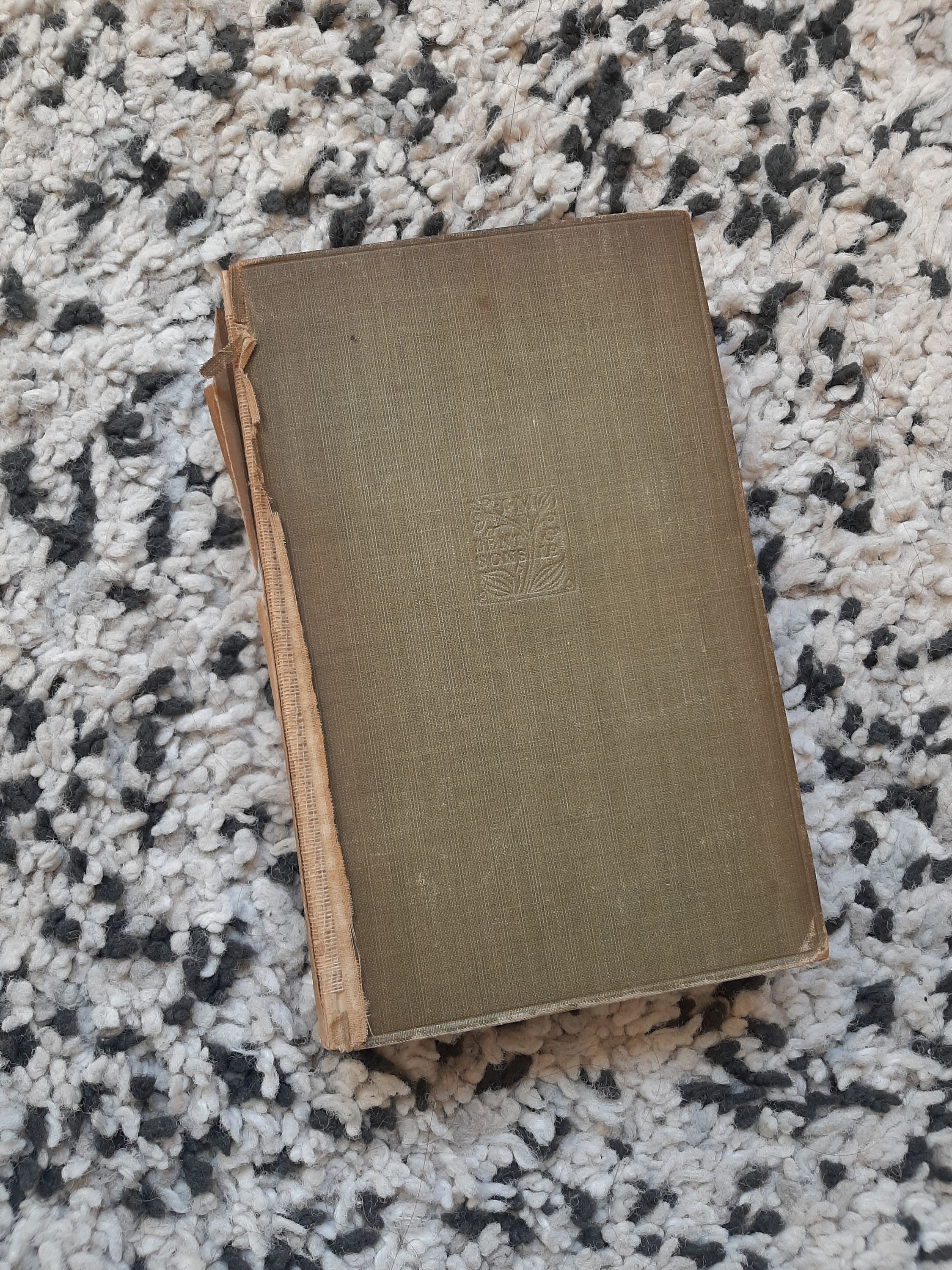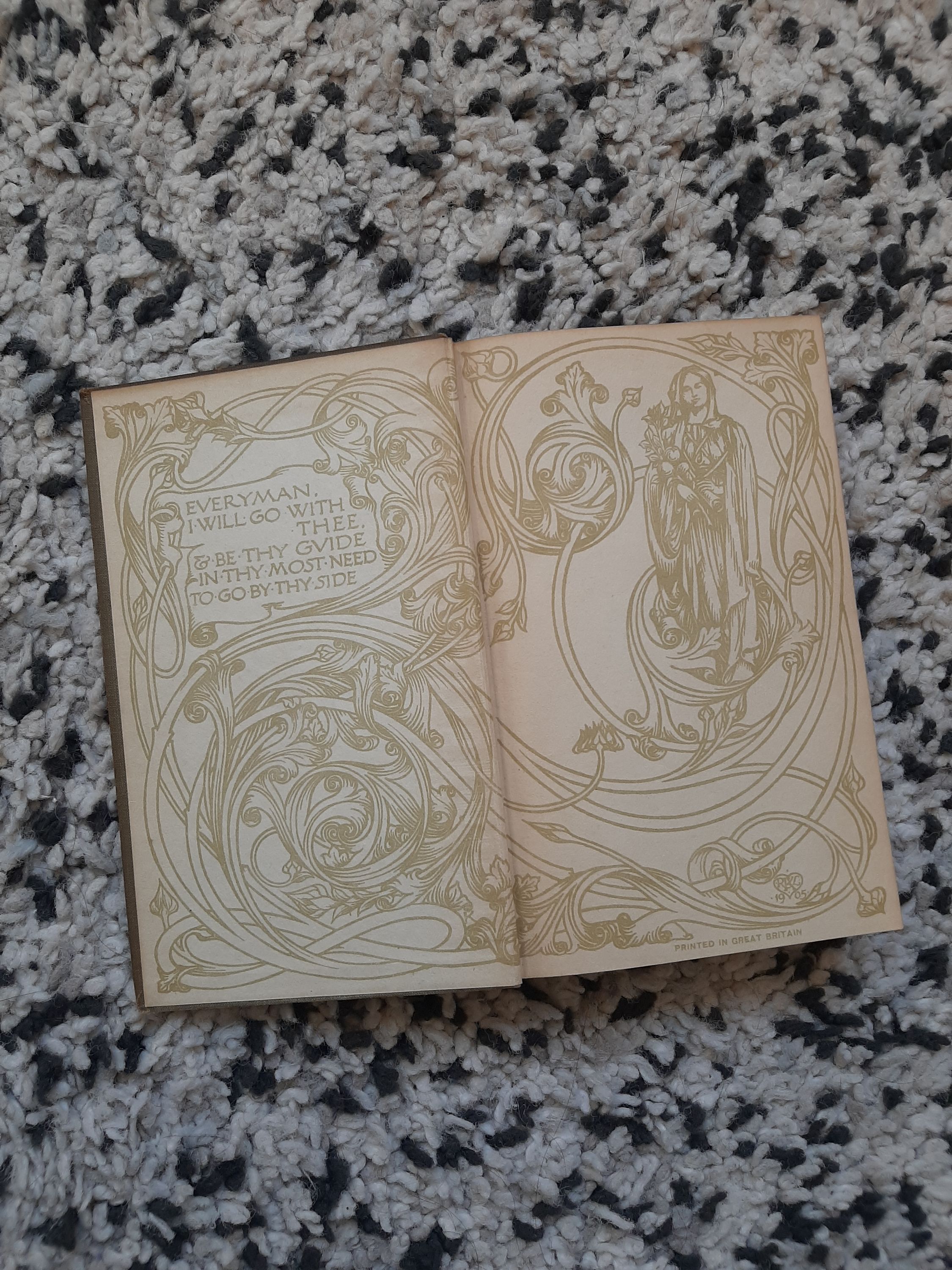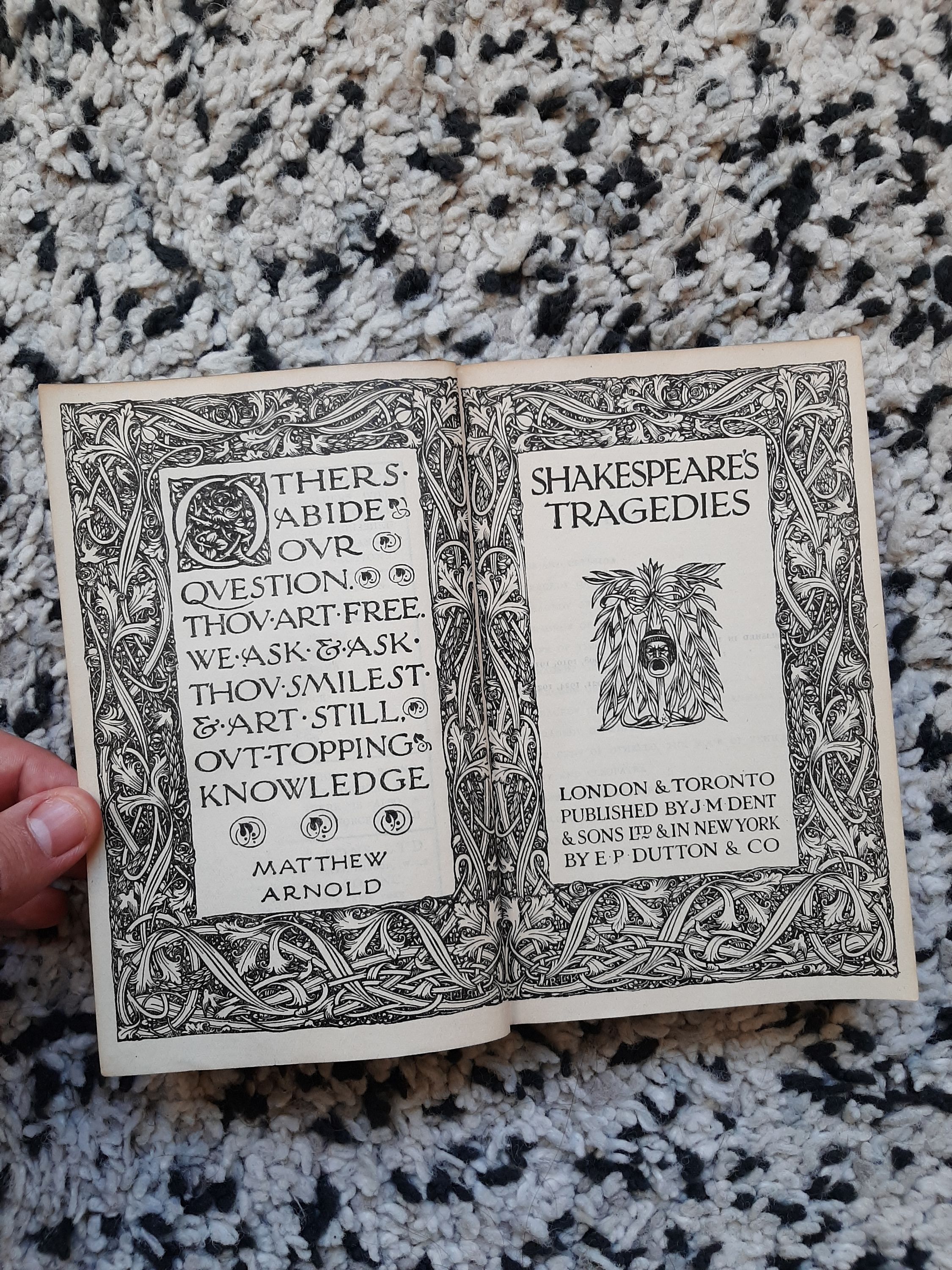 Unwin Books' The Essential Schopenhauer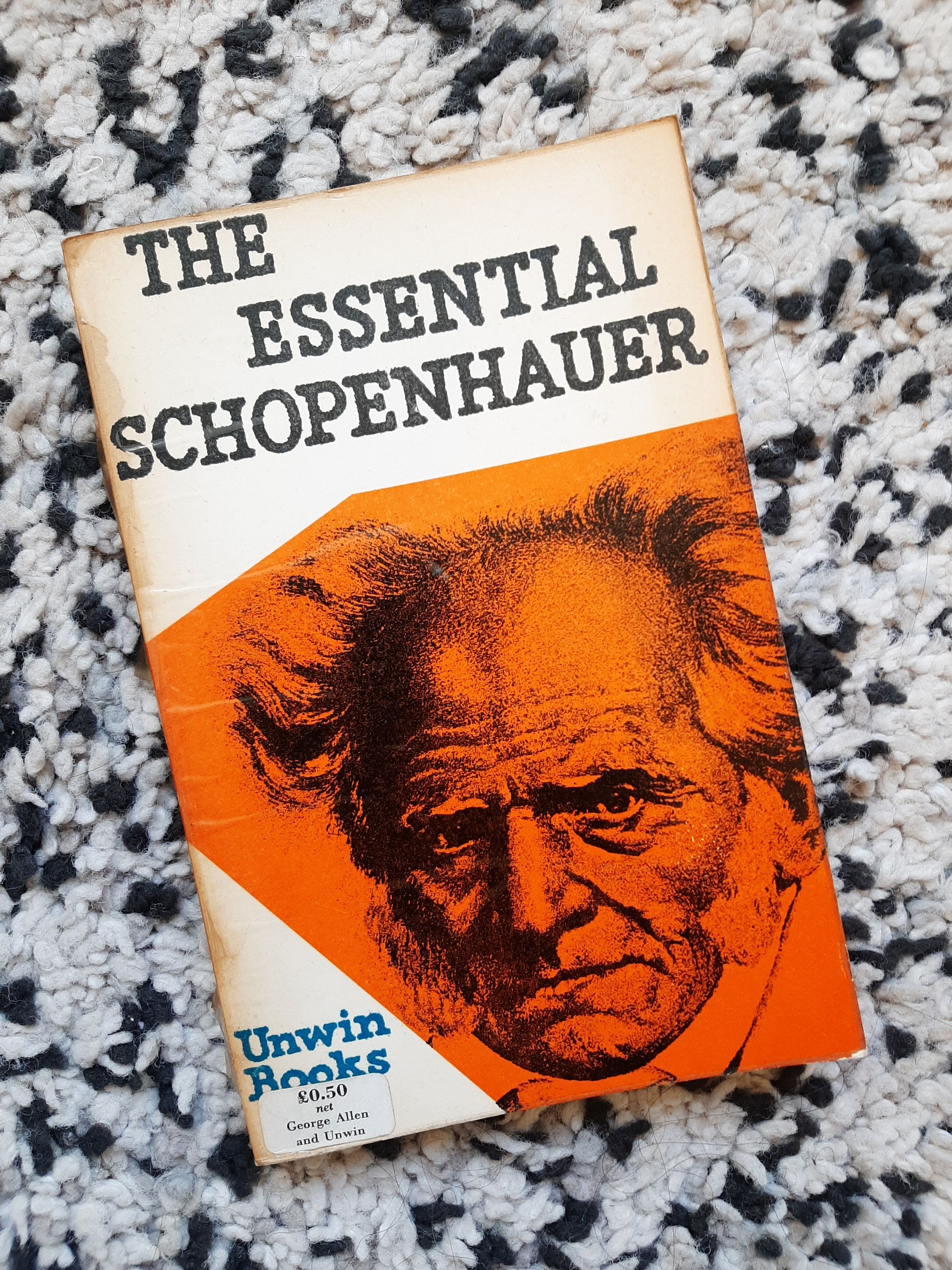 Published in 1962 by Unwin Books, this is a neat little selection of Schopenhauer's essays. I've read a good amount of these in other Schopenhauer volumes I have, but I particularly love the cover of this one. On Thinking for Oneself is a favourite of mine. Schopenhauer would likely frown if he knew about my bringing home of two huge boxes of books: "A library may be very large;" he writes, "but if it is in disorder, it is not so useful as one that is small and well arranged."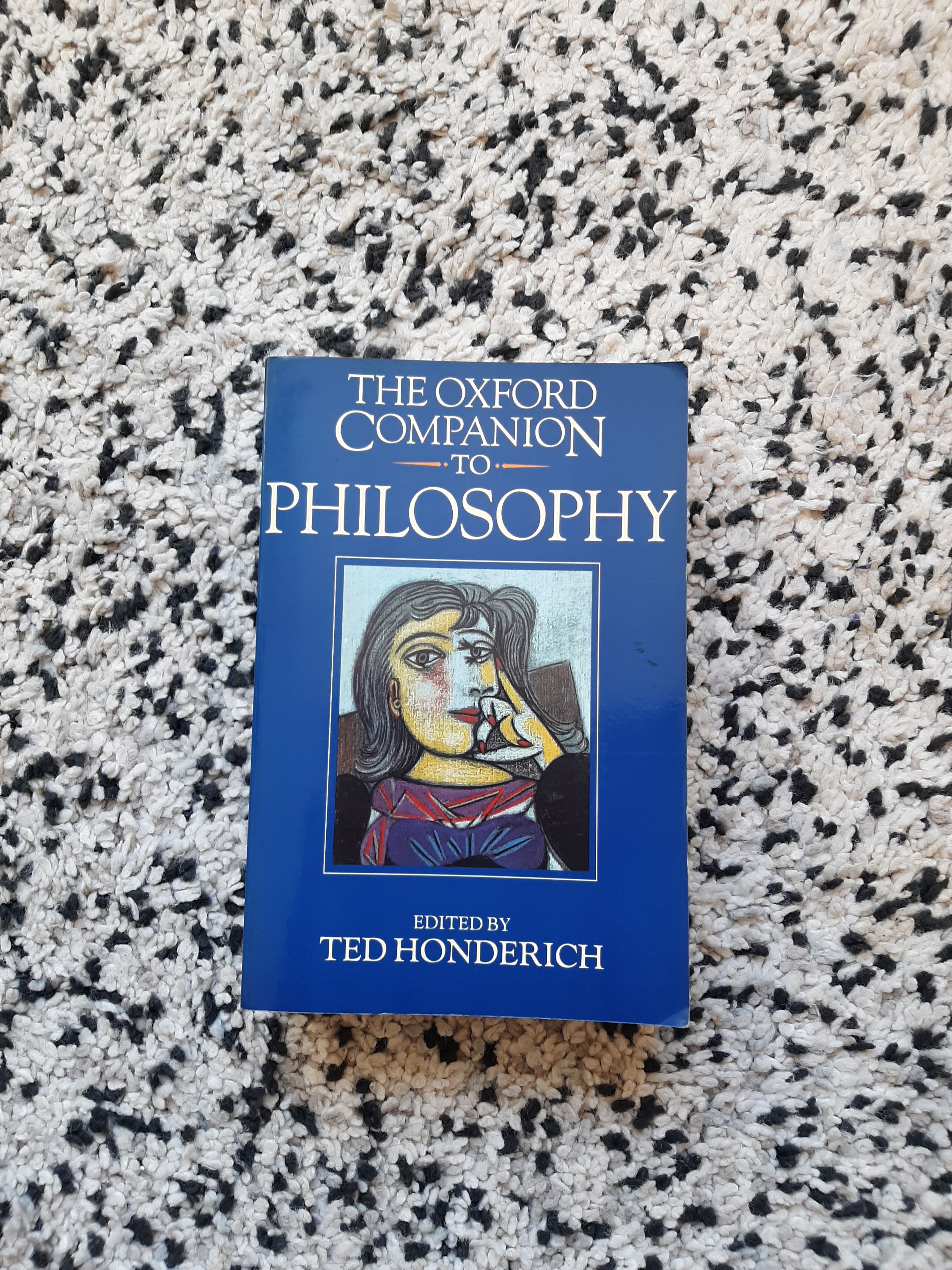 The Oxford Companion to Philosophy
Ted Honerich's Oxford Companion to Philosophy is a reference book for students and lovers of philosophy, essentially a dictionary of philosophical terms, concepts, and philosophers. What an excellent resource to have on the shelf.
The Idea of Phenomenology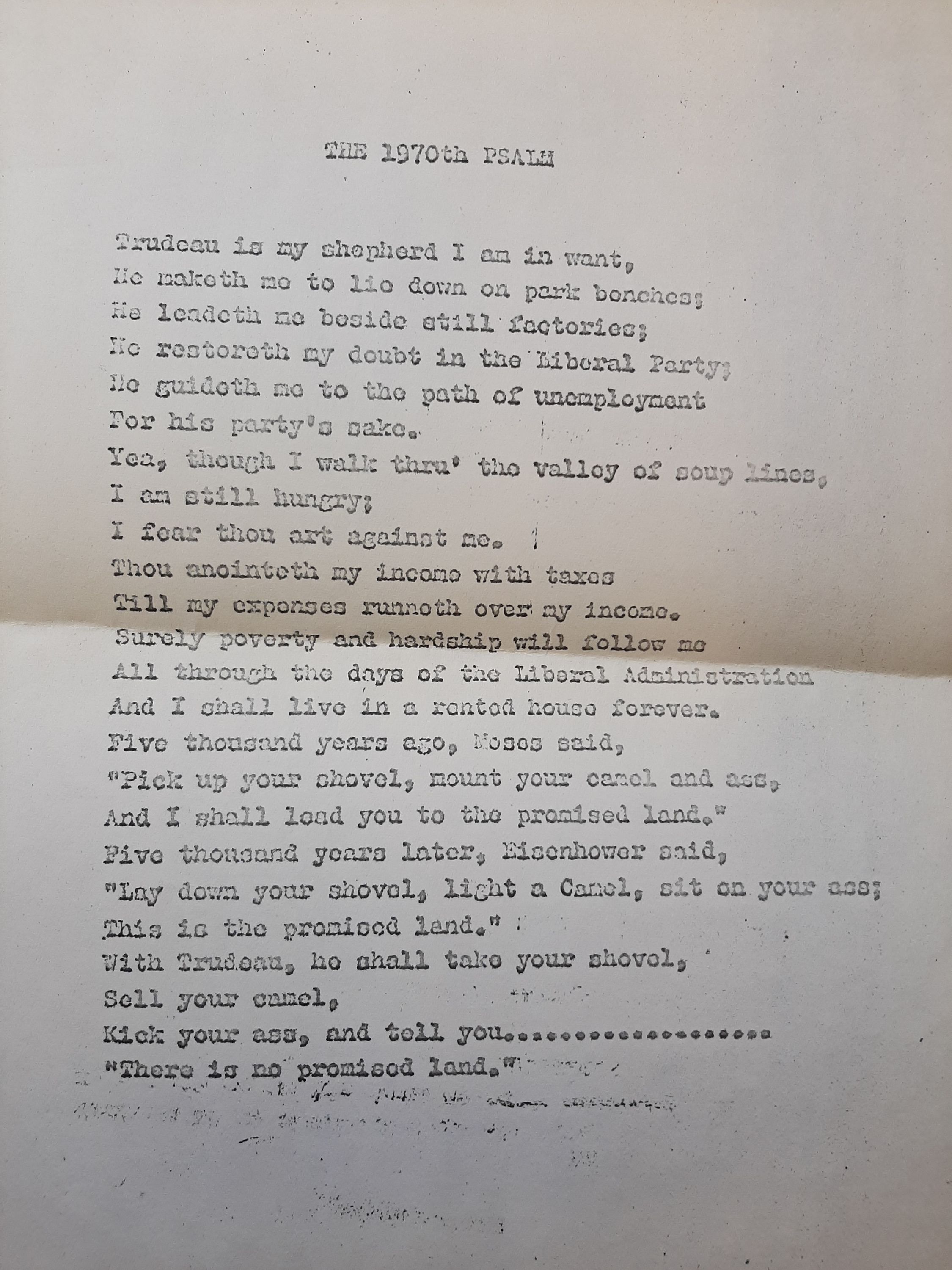 Inside a copy of Husserl's The Idea of Phenomenology I found a folded piece of paper with a satirical Canadian political poem printed on it. The poem is titled The 1970th Psalm and is a criticism of Pierre Trudeau, father of the current Prime Minister of Canada Justin Trudeau. Interestingly, many of the poem's criticisms of Trudeau Sr. are similar criticisms directed at his son 50 years later. I even found a 2017 Facebook post from a Conservative MP with an image of a similar poem titled Psalm 2016. The poem was largely the same as The 1970th Psalm. Eye roll aside, it's a funny find. The 1970th Psalm reads:
Trudeau is my shepherd I am in want,
He maketh me to lie down on park benches;
He leadeth me beside still factories;
He restoreth my doubt in the Liberal Party;
He guideth me to the path of unemployment
For his party's sake.
Year, though I walk thru' the valley of soup lines,
I am still hungry;
I fear thou art against me.
Thou anointeth my income with taxes,
Till my expenses runneth over my income.
Surely poverty and hardship will follow me
All through the days of the Liberal Administration
And I shall live in a rented house forever.
Five thousand years ago, Moses said,
"Pick up your shovel, mount your camel and ass,
And I shall lead you to the promised land."
Five thousand years later, Eisenhower said,
"Lay down your shovel, light a Camel, sit on your ass;
This is the promised land."
With Trudeau, he shall take your shovel,
Sell your camel,
Kick your ass, and tell you……………….
"There is no promised land."
Some things never change.
Others